Hi everyone!
I am pretty new to Grasshopper and honeybee, so I guess my question just comes from a lack of experience.
I am trying to import Geometry from Revit and to turn it to Honeybee Zones. To practice I am using the simple example file provided by Revit ("rac_basic_simple_project").
I import the geometry from Revit to Rhino, using Grasshopper. To do so I do as shown in the video of rhino.inside Revit: https://www.rhino3d.com/inside/revit/beta/guides/revit-to-rhino
The geometry is greatly imported, wall are seen as walls, windows as windows etc.
Then to convert this geometry into HB_Zones, I follow the video by Chris Mackey :
2 - Honeybee Energy Modeling- HB Zones from Masses Part1: Mass2Zones
I use the Brep component to set multiple Breps, selecting all the geometry that is now in Rhino.
However, out of the HB_zones component, when I show the preview of the Walls, it shows all the model, not just the walls. And the previews for the roof, windows, etc don't show anything.
It seems that the elements get mixed up during the conversion from geometry to HB_Zones.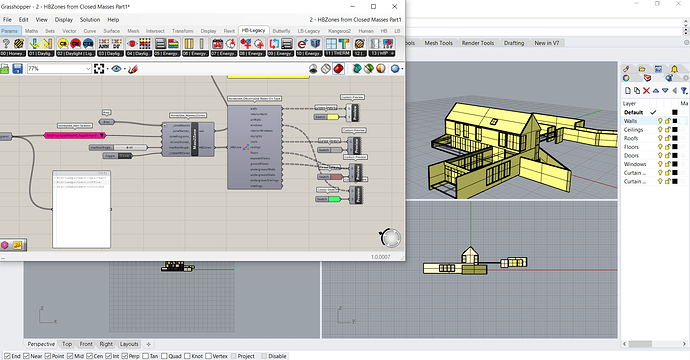 Is there something that I am doing wrong? Is there a better way to convert Revit geometry into HB_Zones?
Thank you very much for your help.
Best.
Loïc