Dear @chris,
I have few question about the Annual Irradiance component in LBT.
I need to evaluate the Solar Irradiance on a Tower for one Day and for a whole Year, and I have encountered some doubt after the analysis:
not-uniform heatmap result despite using very accurate radiance parameters. Legend step is set up for every 100w/m² and goes from 0 to 800w/m² (Sorry I forgot the Legend on the screenshots)
I know that the non-uniformity results of the grid may depend on the stochastic analysis of Radiance, but why doesn't it happen for the south facade?I have simulated without the context.
I am especially strangers with the result on the roof. Shouldn't the roof have the highest irradiation?
From these analyzes the south façades have the largest number of w/m² and not the roofs surfaces.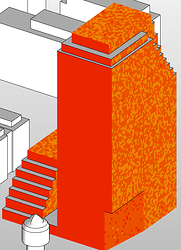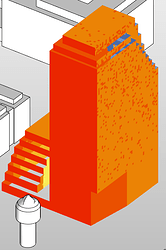 The Left image was made with rtrace, the right image with rfluxmtx.
When I will read the cumulative analysed w/m² for each sensor, why I have 2 different result between the cumulative value and the High Bounds Value from the same list? The High bounds value, should not be the max cumulative value? or I am maybe wrong?


It is probably a stupid question, but does the average irradiance result, take count only of the sun up hours?


What is better to utilize for this type of simulation, the rtrace or the rfluxmtx?
If it can Help, I attached the File
MBBM_LBT1.4.0-Solar_Irradiance_v1.0.1.gh (143.7 KB)
Thanks and Greetings