Hello everyone!
I'm experiencing a fatal error when designing external shading using Honeybee EP Window Shade Generator component and running the energy simulation. The error message:
The simulation has not run correctly because of this severe error: **
** ** Severe ** Line: 1572 Index: 29 - "WindowProperty:ShadingControl" is not a valid Object Type.
I have played around with multiple inputs of the Shade Designer, I updated the file and HB components, checked for any possible errors and could not find the cause for this error.
Next, I opened the Hydra shared file called EnergyPlus_Window_Shade_Generator uploaded by @chris. I wanted to check only the blinds part of the building so I only connected 1 zone as shown below: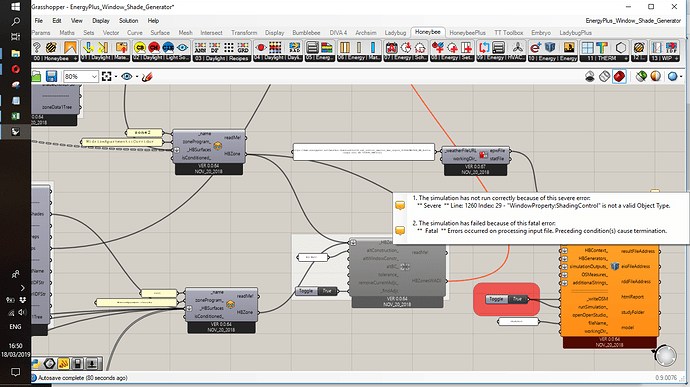 The simulation of Chris's file results in the same error as in my script, therefore, I only uploaded my test version of the file from Hydra.
I'm wondering if others would experience the same problem or if it is an issue with my machine. Many thanks for your help!

EnergyPlus_Window_Shade_Generator.gh (658.4 KB)