Hallo dear Ladybuggers,
According to the new European Norm, the EN 17037, to analyze the sunlight hours, must take into account the minimum solar elevation.
The standard provides a table, with the minimum solar elevation for the 21 March for 33 capitals cities of CEN: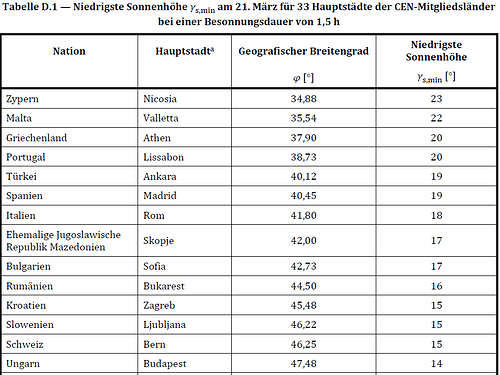 My problem is being able to understand with which criterion it is calculated, find the minimum solar elevation of other cities (not in the list) and bring it into Ladybug.
Normally, the lowest maximum altitude of the sun would be at noon at winter solstice (21 December) at 66.56° (90° minus the ecliptic angle of 23.44°), minus the latitude of the desired location, but with this procedure, I don't get to have the values in the table.
I also tried to calculate the sun elevation angle at noon on 21 December, minus the latitude and compared with the cities on the list, in many cases, the γs,min was equivalent, in others not.
I really hope in some help, to resolve this doubt, from some expert of the subject.
Greetings
Liam