Hi all,
I'm trying to implement the following model in order to simulate more realistic window opening behaviour of occupants:
Rijal, H.B., Tuohy, P., Humphreys, M.A. et al. Build. Simul. (2011) An algorithm to represent occupant use of windows and fans including situation-specific motivations and constraints.
They model the probability of an occupant opening a window via a logit (sigmoid) function based on indoor globe temperature and weighted running mean outdoor temperature. (They also have differing curves for beginning/end/middle of day)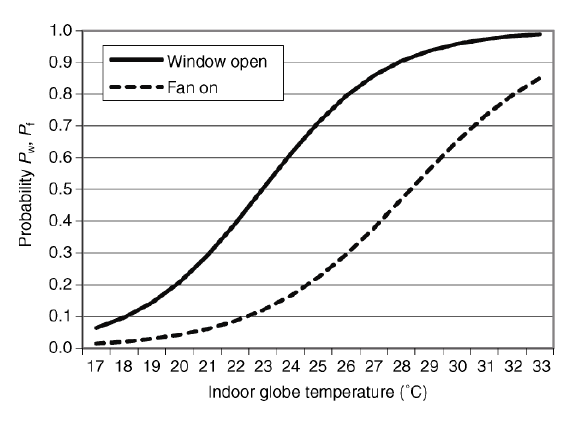 To model this with Grasshopper/Honeybee, I want to:
run a simulation for 1 time step
check the results for the operative temperature
based on this, calculate the probability of a window being opened in the next time step
if yes: enable natural ventilation for the next time step
repeat
I am trying to do this by writing the operative temperature to the sticky dictionary at the end of each step and using it for the next one.
The problem is that, as discussed here, it seems impossible to run a step-by-step simulation in that way.
Does anyone have some advice on how to go about this? GH file attached.
Cheers,
Max180329_HoneybeeTEST.gh (568.2 KB)