Hello all,
I am writing to ask about a possible cause of the HB daylight simulation not working.
I am getting a following error (the script ran here works well on another desktop so it is not the issue of geometry)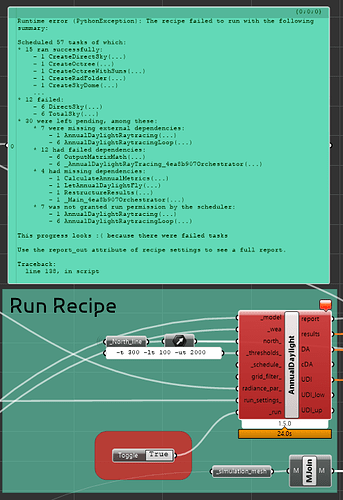 *.log file:
https://zahahadidarchitects-my.sharepoint.com/:u:/g/personal/aleksander_mastalski_zaha-hadid_com/EfCMbQeIg0tDnsO16VkVQrEB_mGF5bSSKe9ejve02g88mQ?e=gXzout
The ladybug was installed via the pollination installer. Reinstall of rhino and ladybug did not help.
Some other radiance based components work, but neither AnnualDaylight nor Irradiance don't.
I would really appreciate any help.
Thanks a lot in advance!