Hi everyone,
The papers "Wind, Sun, Surface Temperature, and Heat Island: Critical Variables for High-Resolution Outdoor Thermal Comfort" (Mackey et al., 2017) and "The Simulation of Mean Radiant Temperature in Outdoor Conditions: A review of Software Tools Capabilities" (Naboni et al., 2020) describe a method for the calculation of MRT.
I would like to use a similar method to evaluate the MRT at different assessment points (created using honeybee generate test points) between a simple block of four buildings (see figure below).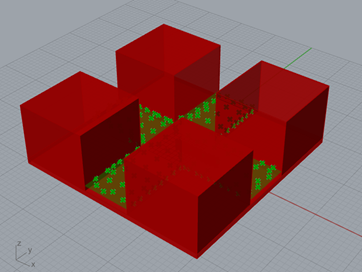 However I have some questions regarding this calculation. As I understand, first you should calculate the surface temperatures of the buildings and ground using EnergyPlus. With these surface temperatures and the sky temperature, you can then calculate a base longwave MRT using the formulas below.


I have now calculated the hourly surface temperatures for all surfaces. I was planning on calculating the view factors for the different surfaces (facades, ground, sky) as seen from each individual test point manually, and subsequently performing the MRT calculation in Python (see attached document). Is this the way to go? Or is there a component which performs the MRT calculation as described above?
Upon calculation of the base longwave MRT, the Ladybug Outdoor Solar Temperature Adjustor should then account for the shortwave radiation.
A final question, is there an example model using the calculation method as described in the papers? All examples that I've found so far seem to use the microclimate map component, which I believe is not the same?
Thanks in advance for helping!
test MRT LB HB.gh (607.5 KB)