Hi all,
I'm posting here as a kind of open question to see if anyone has been working on similar topics and/or has some advice or criticisms on how to model free standing objects in Honeybee (v1.3.0). For my project, I want to understand the effect on UTCI of different shading materials and geometries in outdoor urban space. I know it's possible to model a shade as 'context' in Honeybee, but I want to be able to account for longwave radiation (which the shade object doesn't do) and I want to be able to extract surface temperatures so I can compare with measured results.
So I think there are two options:
Model a shading canopy as a seperate thermal zone. I think the limit to this is that EnergyPlus wont consider the longwave exchange between thermal zones when they are separated by a large air gap (i.e Canopy and Ground, Canopy and surrounding buildings) (p41 of the engineering manual) .

Model the shade as the 'roof', the ground as the 'floor' and customise the walls so that they are as
non-existent as possible (i created open apertures at 95% of the wall face area, setting the properties of the window and face materials to as thin as possible, high conductivity and transmissivity).
I have used exactly the same context, epw file, analysis period and simulation parameters but the first method limits how thin I can make the canopy geometry so I think that is affecting my results. This is what I've found.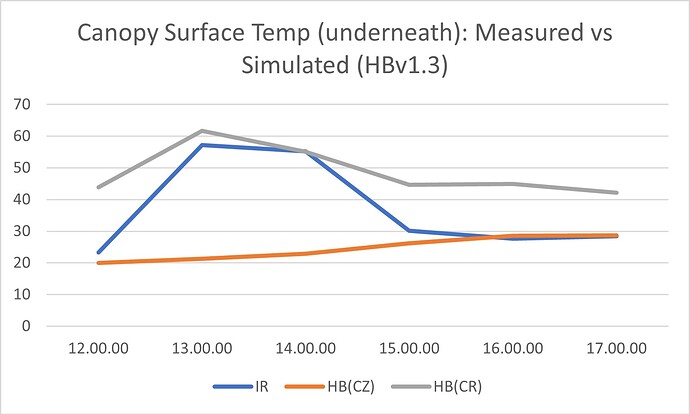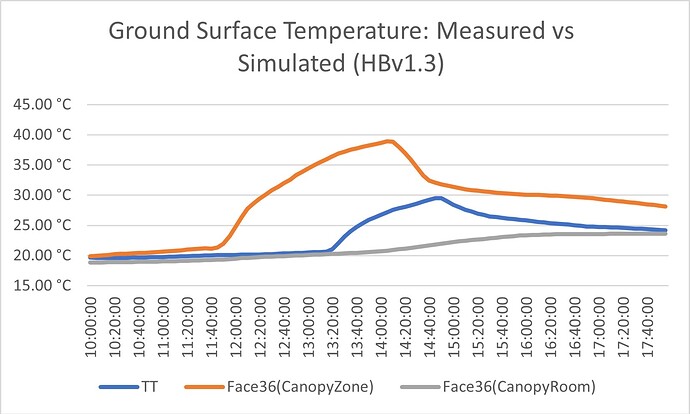 It's quite interesting …it seems like if I could combine the two methods I would have something that aligns with the measured temps (the blue line). Anyone done something like this before and would like to discuss method?
Thanks!