Hi everyone,
A couple questions using HB+, 5 phase, daylight simulation only.
I plan on running a simple room with a single window with a Mechoshade roller shade type system. I'd like to study the impact of a mecho shade type woven fabric coming down either 1/4 glazing height, 1/2 down, 3/4 down, full down.
is there a library of BSDF files that have a mechoshade type system already that I can reference?
can I use WINDOWS7 to model just the woven fabric as a BSDF? or would I need to model a full glazing system with the shade? I've never used WINDOWS so I'm having a hard time trusting myself to model this accurately.
since I have a single room with one large south-facing window system, would it be better to model one 'window group' with 4 'states'? How would I establish the length the shade would come down in each 'state'?
or would it be better to use 4 'window groups', each with only one 'state'; the 'window groups' would then be stacked on each other co-planar and aligned to build a full elevation?
The ultimate goal is to create a 'state schedule' to show how often and how low the shades would need to be engaged given the building orientation, facade, etc. Similar to below: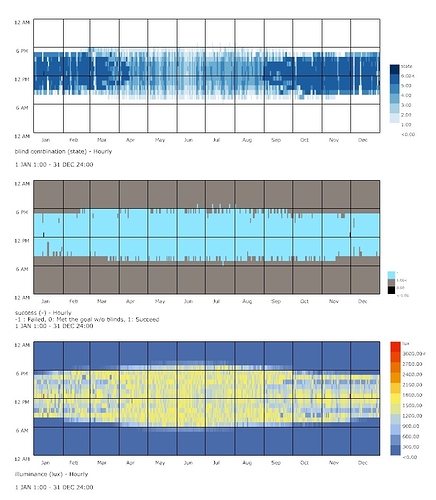 Thanks for the insight
Reinhardt