Hi all,
In case anyone would find it useful, I thought I'd share a recent attempt to use the Honeybee THERM tools to calculate simple 'Psi-Values' for a couple of example scenarios. I've added just a few new components (file attached) in order to allow you to do this based on the U-Factor results which are compiled by the THERM components. These calculations will produce linear thermal bridge heat loss values (in W/mk) which can then be applied to an energy model such as through the Honeybee E+ tools. Note that in order to do this you'd also need the 'Length' of the thermal bridge in the actual building in addition to the Psi-Value generated here: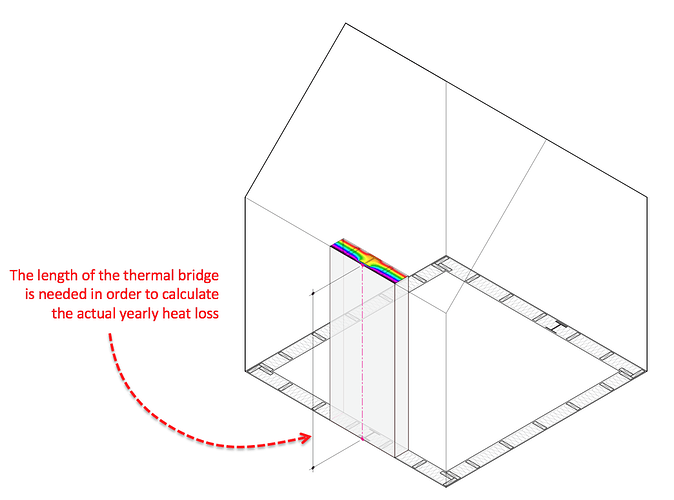 Just to briefly summarize:
All calculations here are based on the ISO 10211 methods and default values / boundaries. The PSI-Value is just the difference between the actual heat loss (from the 2D simulation) vs. the assumed / predicted heat loss from the 1D U-Factor method.
All calculations here assume using EXTERIOR dimensions for the U-Factor clearfield 1D heat flow.
In order to get the calculator to work, you just need to hook it up to the standard 'readTHERM' Honeybee component and a few additional inputs which describe the 2D 'Idealized' lengths. I did that by just inputing 3 reference points which works for most situations but certainly there are lots of ways this could be done.
I didn't do a ground calculator - this only works for ambient air situations.
All the simulations are using ISO 10211 default temps (20°C interior, 0°C exterior) but it should work with whatever temps you input.
1-Element Example:
2-Element [Outside Corner] Example:
2-Element [Parapet] Example:
This one shows an example of a section cut through a typical wall-to-flat-roof / parapet detail where the exterior BC length is very different and irregular. As with the rest this method assumes 'exterior dimensions' for the inputs and Psi-Calc. As with the other 2-Element example, inverted junctions will typically yield a negative Psi-Value when using exterior dimension references. This one calculates to -0.020796 W/mk.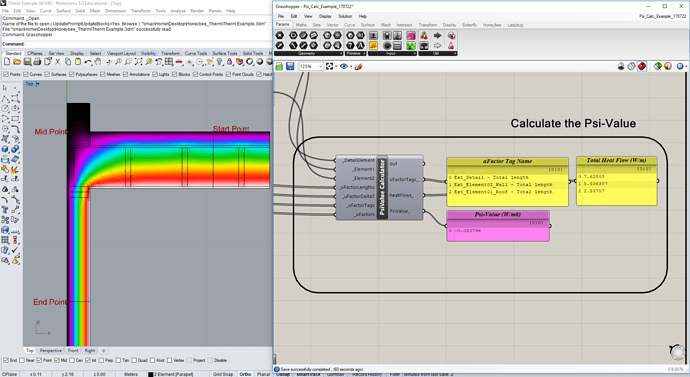 anyway, I just thought someone might find those components useful or of interest. Note that I don't think E+ can accept the 'negative' Psi-Values (might be wrong about that?). But if you are using a program like PHPP or WUFI you can input those negative values to take credit for the reduced heat flow at those inverted junctions.
Also - be sure to set your 'Units' tolerance in Rhino to 0.0001 before opening the .GH attached file here to make sure you don't get any errors.
best,
-Ed
Psi_Calc_Example_170725 [Internalized].gh (638.7 KB)